The DUFF by Kody Keplinger
Genre: Young Adult Fiction
Release Date: September 7, 2010
Publisher:
Poppy
Pages: 288
Summary:
Seventeen-year-old Bianca Piper is cynical and loyal, and she doesn't think she's the prettiest of her friends by a long shot. She's also way too smart to fall for the charms of man-slut and slimy school hottie Wesley Rush. In fact, Bianca hates him. And when he nicknames her "Duffy," she throws her Coke in his face. But things aren't so great at home right now. Desperate for a distraction, Bianca ends up kissing Wesley. And likes it. Eager for escape, she throws herself into a closeted enemies-with-benefits relationship with Wesley. Until it all goes horribly awry. It turns out that Wesley isn't such a bad listener, and his life is pretty screwed up, too. Suddenly Bianca realizes with absolute horror that she's falling for the guy she thought she hated more than anyone.
Now, I'm not really a fan of realistic fiction, but this book is kind of an exception. The title is different, well, to me at least. The summary made me laugh, and I guess the idea of enemies with benefits is pretty awesomely funny. Haha. I really don't know why I like this book, but then again, does anyone? Anyways, sounds like another good book to put on your list.

To enter the giveaway go to: http://lafemmereaders.blogspot.com/2010/06/duff-by-kody-keplinger-giveaway.html for more details. The giveaway ends August 1
Current Music:

Fahrenheit-Chu Ren Hua Sen
Oh yeah, you're seeing clearly. No, optical illusion here. The big names are all here. The much anticipated sequel to Hush, hush is right there. And the cover, amazing. I hope the book lives up to it's wait. On to The Clockwork Angel. Definately a book to watch, and want for that matter. Written by Cassandra Clare, who wrote the famous Mortal Instruments series. A series I(and everyone) can read over and over again without getting bored, trust me, I've tried that. This is the first book in the new series she's writing, Infernal Devices. I really want to read the book, but the fact that it's written in the past, it might not turn out well. Though Cassandra Clare could be one of those authors who can write in the past and the present. Then there's The Last Sacrifice, the last book in the Vampire Academy series. I'm reading the 5th book in the series, and yeah, it's awesome. Fans of the series, will definately want to know the ending, I'm not saying why, because that would be a spoiler. Hell, yeah, The Hunger Games fans, I need not to say anything. I think we all know what you're thinking of. And I'm sorry to say, but the books Nightshade and Paranormalcy don't have the star power of the other books, but I've heard they're awesome books. Plus, the covers are awesome. Haha.
For more details on this giveaway, go to: http://lafemmereaders.blogspot.com/2010/06/summer-ya-bash-giveaway.html. The giveaway ends July 18.
These are the prizes:
Current Mood:

thirsty

Current Music:

Show Lo-Head Over Heels
Grand prize:


1st Runner Up:


2nd Runner Up:



The book I really want is Stolen. Definately one that gets me on my tip toes. The prose and plot is so inviting it's surprising I haven't already read the book. The idea of a kidnapper who kidnaps a girl only because he loves her, is.......quite interesting. One that I have never heard of. Maybe I do, but it's not all that out there. And how you just know they won't work out, but you're still rooting for them. Well, that's what I've heard anyways. And all that swag.....swoon.......though I don't like that word.

To enter the giveaway go to: http://stephsureads.blogspot.com/2010/04/big-spring-giveaway.html for more details. The giveaway ends May 7.
Current Mood:

restless

Current Music:

Sarah Mclachlan-Fallen
Okay, okay. Back on subject, I really want this book because:

1. Faeries are awesome
2. I find Team Ash vs. Team Puck very entertaining
3. Too many rave reviews to count

Whose side are you on?

To enter the giveaway go to: http://www.thebookcellarx.com/2010/04/faery-face-off-ash-vs-puck-contest.html for more details. You can enter there or you can enter 3 other places, but you can only win once. At this link you will find that there is a list for Team Ash. There are two book bloggers for Team Ash, and two for Team Puck. Each side has made a very specific list convincing you to join a side.

If you know me, I really want to read this book. Every single book blog that I have checked out has been giving The Iron King rave reviews. Plus, it's going to be one of the books for my 2010 Debut Author Challenge. I truly think I have not actually read any 2010 debut authors this whole year. Tsk, tsk, I know. But I don't get to read much. I've got this whole shelf of books to read from Green Zone to James Patterson.
Current Mood:

indifferent

Current Music:

Xiao Yu-Don't Really Know How To Sing
If you've been following my blog, then you know just how much I want to read Silver Phoenix. It's so hard to finally find a book with Chinese culture without poisoning it. This book is definately one to watch.
To enter the giveaway go to: http://lesleysays.livejournal.com/5117.html for more details. The giveaway ends on May 15.
Current Mood:

restless

Current Music:

Fahrenheit-Artery
According to Cindy Pon, these 2 ARCS are definately on the watch list. They're different genre books, though you could probably already see that from the cover, but since I don't know what the books are about, I'm not exactly sure if they're actually good. But Cindy Pon is raving, I mean raving. The cover of Paranormalcy definately draws you in, makes you want to read it. Black Hole Sun's cover colors give it a nice touch, even though the cover is kinda bland, plaid, uninteresting.
To enter the giveaway go to: http://cindypon.com/2010/tgifbm-black-hole-sun-and-paranormalcy/#comments for more details. The giveaway ends, I think on April 28
Current Mood:

lazy

Current Music:

Tank-My Only Angel
Prize:

1 winner will receive the following:
~Before I Fall by Lauren Oliver
~The Heart is Not a Size by Beth Kephart
~The Reckoning by Kelley Armstrong
~Voices of Dragons by Carrie Vaughn
Fans of Kelley Armstrong, beware. The long awaited book in the series has finally arrived. Plus all the other books are heard of, even though they don't have the same big name status as Kelley Armstrong. All really good books you've probably heard of, basically.



To enter the giveaway go to:

http://thebookpixie.blogspot.com/2010/04/harperteen-prize-pack-giveaway.html

for more details. The giveaway ends on May 16.
Current Mood:

mellow

Current Music:

Fahrenheit-I Have My Young
Summary:
Hunger for nourishment.
Hunger for touch.
Hunger to belong.
Half-human and half-faery, Ani is driven by her hungers. Those same appetites also attract powerful enemies and uncertain allies, including Devlin. He was created as an assassin and is brother to the faeries' coolly logical High Queen and to her chaotic twin, the embodiment of War. Devlin wants to keep Ani safe from his sisters, knowing that if he fails, he will be the instrument of Ani's death. Ani isn't one to be guarded while others fight battles for her, though. She has the courage to protect herself and the ability to alter Devlin's plans—and his life. The two are drawn together, each with reason to fear the other and to fear for one another. But as they grow closer, a larger threat imperils the whole of Faerie. Will saving the faery realm mean losing each other? Alluring romance, heart-stopping danger, and sinister intrigue combine in the penultimate volume of Melissa Marr's New York Times bestselling Wicked Lovely series.

Another giveaway for the fourth book in the Wicked Lovely series. There are so many, which, I guess is a good thing for all those who love the series. I have to read the series, which as I promised before I would. But I never said when I would read it, so, it's fair.

To enter the giveaway go to: http://lafemmereaders.blogspot.com/2010/03/radiant-shadows-by-melissa-marr.html for more details. The giveaway ends on April 30.

Current Mood:

cranky

Current Music:

Mayday-Like Smoke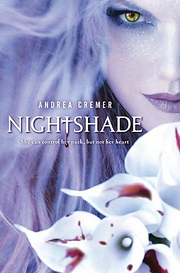 While other teenage girls daydream about boys, Calla Tor imagines ripping out her enemies' throats. And she wouldn't have it any other way. Calla was born a warrior and on her eighteenth-birthday she'll become the alpha female of the next generation of Guardian wolves. But Calla's predestined path veers off course the moment she saves the life of a wayward hiker, a boy her own age. This human boy's secret will turn the young pack's world upside down and forever alter the outcome of the centuries-old Witches' War that surrounds them all.
(Will be published in October 2010!)
Yup, I'm a fan of wolves, or werewolves. So this definately interests me. Vampires are okay. Basically, I try, emphasis on try to not hate em. Vampire Academy is actually a really good series, though I love the dhampirs more than vampires. Anyways, back on the actual subject, I think this book is for the avid wolf lover. I think it you were to read it, being a wolf lover, if the book didn't come out wrong, I sadly say that someone will be left very disappointed. Though, I the book will be a good one. Yeah, question my gut feeling, but I just feel that.



The giveaway ends, holy crap, today. Sorry, didn't notice that. To enter the giveaway go to:
http://booksobsession.blogspot.com/2010/04/win-nightshade-by-andrea-cremer-arc.html
Current Mood:

blah

Current Music:

Gorillaz-Stylo(Alex Metric Remix)
Yes, I know. I haven't been blogging lately. Mostly, it's the reason that homework has got me in a uhhh...let's say, fudge. Plus, the recent giveaways didn't really need a blog post. I know, selfish of me, but my wifi sucks, so I try to not use it/stress it much.

Anyways, in this giveaway, the title really speaks for itself, There are 3 winners, and each winner will receive a box of books. Which is 9 books. But you don't know what the books are, just that they are either newly released or not released yet. So basically, it's a surprise!

To enter the giveaway go to: http://juiciliciousssreviews.blogspot.com/2010/03/random-big-giveaway.html for more details. The giveaway ends April 21.
Current Mood:

amused

Current Music:

S.H.E.-Shero